You all know I love my Austin gals - there are so many talented ladies in ATX! Among them are the lovely
Jigglewatts
, and I have had the priviledge of performing with the dynamite duo of Ruby Joule and Coco Lectric on various stages... and since I have already had Ruby on my blog, it's Coco's turn to give you her take on traveling, troupe life, and why she loves to dance!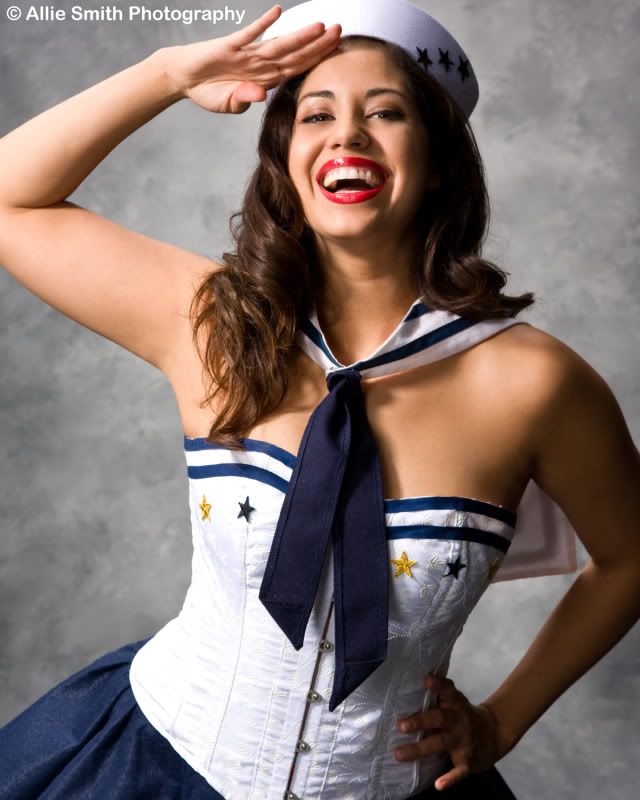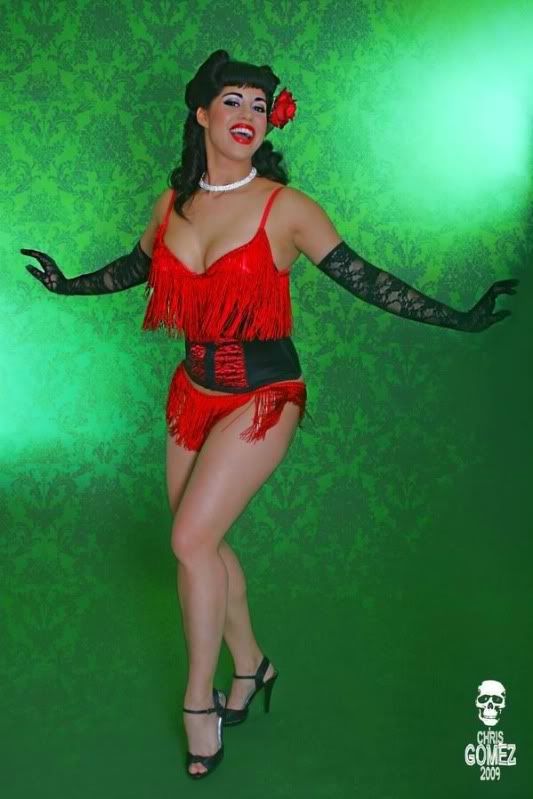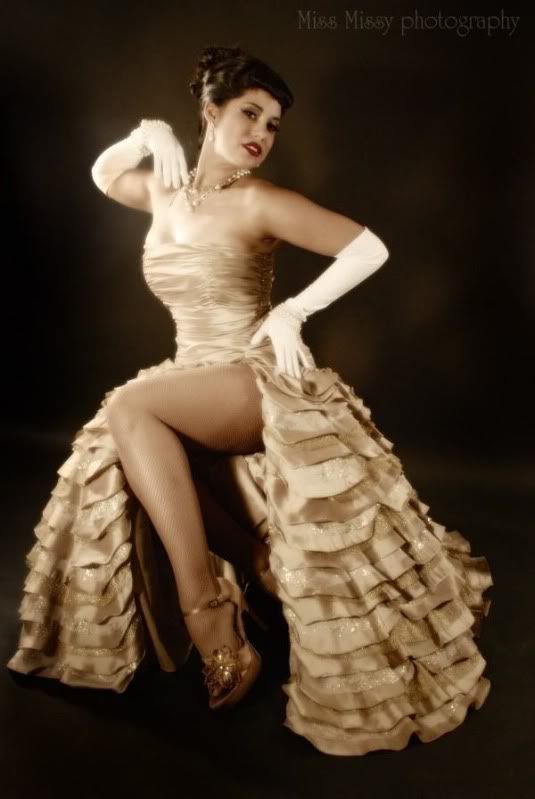 Miss Coco Lectric has been gracing stages all over Texas and the southwest with the Jigglewatts Burlesque for three years. She utilizes her classic dance training, love for the exotic, and her cutting wit to astound audiences across the globe. She has performed in Austin at La Zona Rosa, Antone's, Stubb's, and Continental Club, and the historic Texas Theatre in Dallas, among many others. Honors include: Texas Bikini Team Best Dance Performance Award, and the Audience Choice Award at the Texas Burlesque Festival 2009, and just finished a national tour performing burlesque and go-go with psychobilly band Johnny Hootrock.
1.) What got you into burlesque?
I had been interested in striptease for the ten years I had been a professional choreographer and dancer and had incorporated it into some of my jazz and go-go choreography. However, it wasn't until a moment on the set of an independent zombie movie musical that Miss Ruby Joule and Miss Cherry Zapp and I decided to form a group with the sole purpose of creating burlesque. I got into burlesque, personally, because I love putting sensuality and fun back into being sexy.
2.) You have some of the most amazingly unique routines! How do you come up with the inspiration for them?
They just happen. My brain is tuned into burlesque most of the time. It's what I think of when I wake up in the morning and, consequently, I am inspired by the things I see and hear throughout the day. Sometimes I'll hear a song and all of the sudden I have the whole number played out for me in my head, and I think, "Yeah, this has to happen." At other times I decide that I want to be a character like the Queen of Hearts, or a carousel pony, or even a tangerine, and I make that happen. There are even times that friends and lovers inspire an act; routines are very personal to me and I give each number my all.
3.) You have been part of the Jigglewatts for some time now, how would you describe your troupe?
Our troupe is fabulous! We had quite a theatrical beginning. Our first shows were theme oriented and we incorporated a lot of ensembles. As time went on we began to notice that solos were much easier to put together because getting four to five girls together on a regular basis can be difficult. When we decided to focus on solos our group really started to flourish; our individual styles became more apparent and beautiful. We are a very supportive troupe and we have similar goals—to create amazing routines and support women who are working toward the same goal. Currently, our troupe consists of Miss Ruby Joule, Cherry Zapp, Goldie Candela, Pearl Lux, Champagne Shock, and me.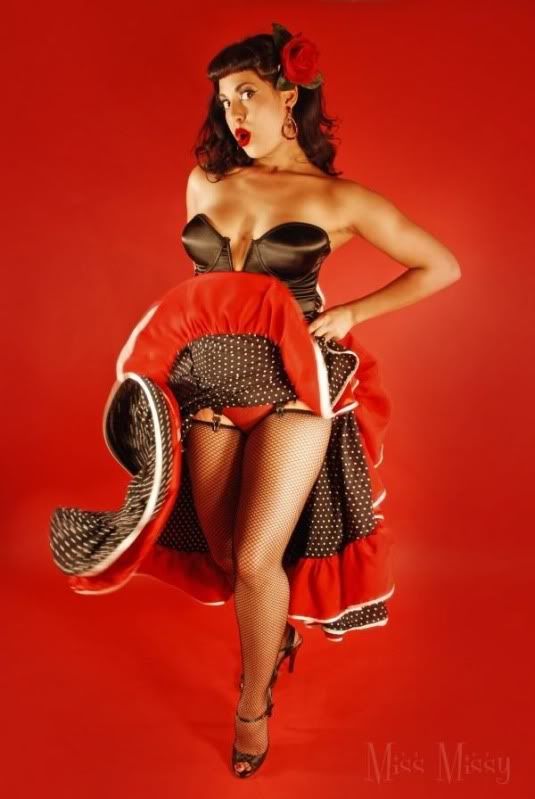 4.) What has been a challenge for you this year? Your biggest achievement?
Oddly enough, the challenge for me this year has been coordinating all of the shows that we're performing in and the ones that we're creating. It's more of a matter of time and money that makes burlesque so complicated; it takes a great deal of both to be successful.
Miss Ruby and I have gone to great lengths this year to hone our craft; this has required a great deal of travel. We learned so much from our trip to Las Vegas for the Burlesque Hall of Fame/Miss Exotic World weekend. The business aspect of burlesque can be just as important at the artistic side—no one will ever see what we've created if we don't find a way to get it out there.
My biggest achievement this year has been the opportunity to show large audiences what we can do and make friends with other burlesque groups from around the world. This year I won the Audience Choice Award at the
Texas Burlesque Festival
, which was a great and surprising moment for me; we made some great new friends at the event, too. The next day Miss Ruby and I performed at
Hot Rods & Heels
in Dallas where we made a grand impression on the audience there, and of course, more new friends. Miss Ruby and I were able to show the nation a thing or two while on tour with psychobilly band, Johnny Hootrock. It was an honor to be able to bring classic burlesque to stages all over the southwest. We were particularly elated to perform at the Viper Room in Los Angeles.
5.) What's a personal goal you'd like to see accomplished in the coming months?
My personal goal for the coming months is to perform for a larger and broader audience. I look forward to knocking some socks off in New Orleans at the
New Orleans Burlesque Festival Burlesque Bash
with Catherine D'Lish on September 12th, in Dallas in Burlesque Nocturne featuring Kalani Kokonuts on October 23rd, and I am honored to be headlining with Miss Ruby Joule in the Gifts & Garters holiday event in Dallas on December 5th.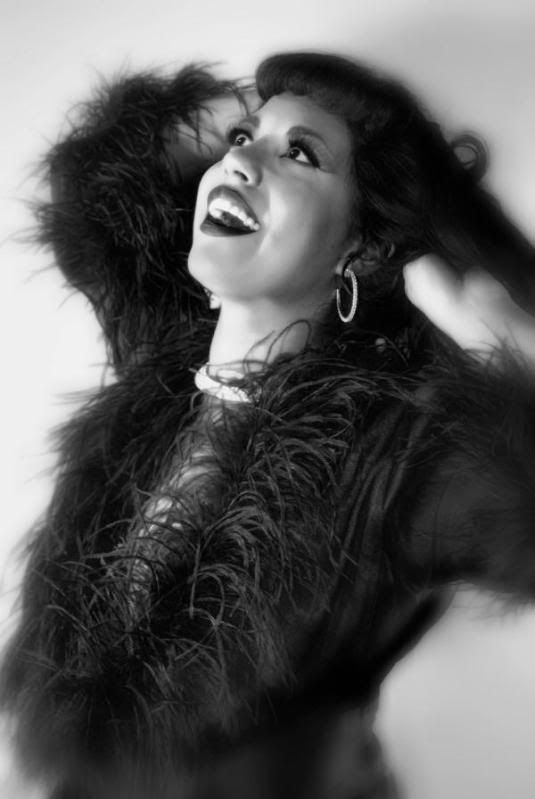 6.) Burlesque can be a time consuming and expensive venture, why is it so important for you to continue to perform?
For me, the art of burlesque is not only enjoyable, but also rewarding. The art of burlesque incorporates many aspects of the artist's sensuality, social climate, and their own traits and desires. Being burlesque performer is empowering and inspiring. As a performer with a diverse cultural background and a fuller figure, I find that I am able to encourage many other women to test the limits of their sensuality by example. When I'm on stage I am having the time of my life; I feel honored to be able to be so available to the audience. I'm there to feel special and make others feel special, too. It's the greatest compliment when women approach me after the show to tell me how much they want to do what I'm doing and that they'd love to learn.
Thank you so much Coco for letting me interview you! I'm excited to be able to perform with you and Ruby again at Gifts and Garters in December!
Cheers!
Vivienne
Photo Credits - Allie Smith Photography, Chris Gomez Photography, Miss Missy Photography