OK, my fellow burlesque lovers - I'm going to start branching outside of the South for my interviews. Now, don't fret - I still have PLENTY of lovelies that I want you to get to know... but I have begun to realize the amazing bevy of talent that lies above the Mason - Dixon line.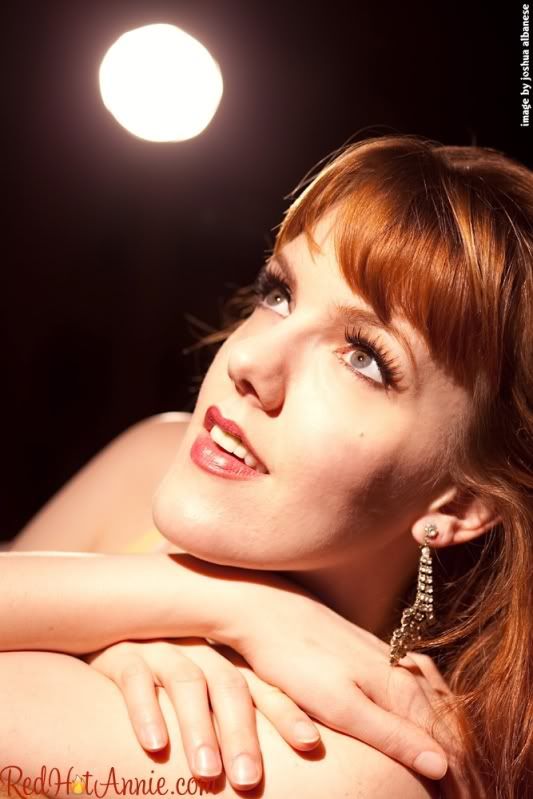 Red Hot Annie
from Chicago began as – and remains – a pinup model since 2003. With an extensive performance background to draw on, she turned her attentions to burlesque in early 2008. In short order, she has become one of the most recognizable and visible faces in Chicago burlesque, blending comedy, sexiness, and storytelling into a crowd-pleasing style. She has performed with – among others – Beast Women Cabaret, Varietease Cabaret, and Belmont Burlesque Revue. In July 2008, Red Hot Annie paired up with Dick Dijon to create Vaudezilla Productions, which has become a major force in Chicago by redefining the burlesque bar show and setting a new standard for burlesque variety shows. In 2009, she began expanding her presence beyond Chicago , making appearances at the Vancouver International Burlesque Festival, the Texas Burlesque Festival, and with the Brew City Bombshells in Milwaukee. I found this hot rod of a lady through
Rose Darling
, who will be travelling north soon to be in a Vaudezilla production! I tracked her down, and after oohing and aahing over her pictures and finally getting the courage up to ask her for an interview, I got what I wanted. She is a sweet, sweet gal, with a lot on her plate - read on for her views on burlesque, girls' nights out, and her love for the Big Lebowski.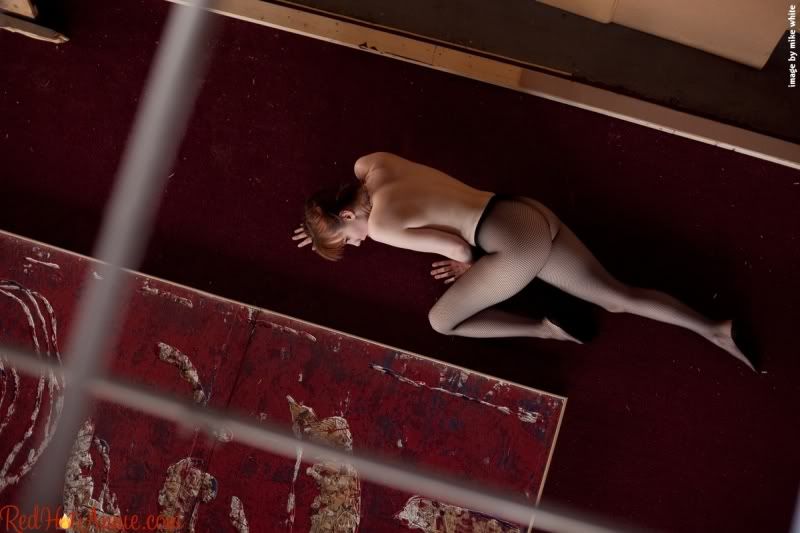 1.) How did you get into burlesque?
I started performing in the theatre when I was 16. I've been in probably 40-50 plays and musicals in Chicago and the suburbs. Some of my girlfriends perform burlesque, and 5more than 5 years ago, I started watching burlesque. I'd just sit in Belmont Burlesque's audience and enjoy the show. With some later encouragement from friends, I decided to take the plunge. My first solo was in January 2008.
2.) I see that you are doing a tribute show to the The Big Lewbowski - where do you come up with concepts and routines for events like these?
I am lucky to be able to make my living as an artist, annd one of the major advantages of that is that I am always surrounded by creative people who inspire me. My partner, Dick Dijon, and I came up with the idea of Big Lebowski burlesque one night while we were watching the movie. I'm sure it started out as a joke, but we realized the potential very early on – this all happened in the early part of this year. And as all good ideas tend to do, it hung around, kept coming up every now and then, and finally worked its way onto our schedule.
3.) Do you consider yourself a traditional classic stripteaser, or do you dabble more into the vaudevillian side?
I'm pretty flexible about what I'd consider myself. A lot of my current work falls safely into classic strip tease, but I have been known to dip into neo-burlesque and vaudevillian, especially since the theatre shows I produce include talking roles for the burlesque performers. The main goal is to do something that I enjoy and that will entertain a lot of people. So, whatever gets those two jobs done is okay with me.
4.) Describe the burlesque scene in Chicago, what's it like to take if off in the Windy City?
The burlesque scene in Chicago is booming! When my company, Vaudezilla, stormed onto the scene about a little more than a year ago, there were only a couple shows every month. Now, Vaudezilla alone produces 2-3 shows/week! Some of the other Chicago troupes I love are Varietease Cabaret, Belmont Burlesque Revue, High Voltage, and Hot-n-Heavy. One of the reasons I love these particular productions so much is because they contribute a sense of camaraderie to the scene. I also love them because each one contributes something unique to the community overall, and that positions Chicago as a location where there is something to suit a wide range of tastes. Plus, we all provide each other with opportunities to work in each other's shows, we cross-promote our shows, and there is almost no drama!
5.) Tell us about one of the most amazing experiences you've had in the past year, and one of of your most challenging times.
The most amazing experience I've had in the past year was when I traveled to Vancouver to perform in the Vancouver International Burlesque Fest. I got to perform 4 different acts over the course of 2 nights, and we had huge, enthusiastic crowds. Diamond Minx puts on an amazing show, and I got to meet some amazing performers, including Rosie Bitts, Scarlett James, and host Vincent Drambuie. Everyone was very welcoming, and it was an ideal first festival experience.
The most challenging part of doing burlesque has been it's affect on my personal time. Once upon a time, I used to sit barefoot on my porch and drink red wine with my girlfriends. Now, I can't remember the last Girls Night I've had. Burlesque has taken over my life! I love it, but I do miss having more time to spend with my non-burlesque friends.
6.) What are some goals for Red Hot Annie this year?
I would love to travel more this year and appear in more festivals. They're terrific performance experiences, and as a producer, it's always informative to get out of your own backyard every now and then to see how other areas put shows together. I've also got my eye on opening a theatre/performance space. I'm not sure if a girl can realistically do both, but I love a good challenge, so I'd love to try!
6.) Since you're also a producer, what are some goals for you company, Vaudezilla?
One of the main goals we're focusing on right now is raising the bar for the Chicago burlesque scene in general. I think that most people within the community would say that Vaudezilla has already had a serious impact over the last year in terms of performance opportunities alone. But we also have an eye towards making Chicago a hot spot for performers who are interested in traveling. We've already had an out-of-state performers Kai de Vicious (Milwaukee) and Miss Kitchy Coo (San Francisco). And we've got more guests lined up for August, including Rose Darling (Dallas)! Penny Starr Jr. (Hollywood) is coming to perform and to conduct an afternoon's worth of burlesque workshops on Saturday, August 29. In September, we'll be hosting Minne Tonka (New York) and Super Happy Funtime (Grand Rapids). We really hope to make Chicago a prime burlesque destination, and we are always excited to bring in traveling performers!