As you know, DFW is BRIMMING with absolutely lovely talent... and I want to show you another side to the shimmy and the sequins, the women behind the feather fans and the red lipstick. My first gal is one of my favorite performers, and she has made QUITE the name for herself - and what's more important, is that she has done it herself... she books herself, manages her shoots... there's pretty much nothing this gal can't do (she's even taught me the art of the bump and grind!)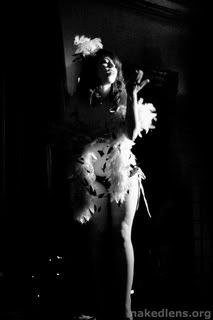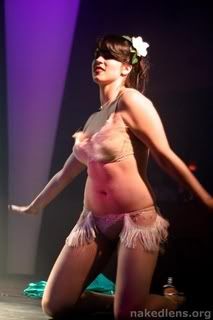 A former ballerina turned burlesque dancer and instructor, Ginger is an award-winning performer and the premiere model for the Dallas Dr. Sketchy chapter, modeling for them many times. She has shimmied in bars, clubs and historical theaters all over Dallas. In 2009, Ginger launched her Burlesque
Charm School
where she teaches classic striptease to a variety of levels. She also traveled to
Chicago
to perform in Michelle L'amour's Bells and Whistles show benefiting the
Burlesque Hall of Fame
. In addition to teaching and performing, Miss Valentine writes her own blog and has her own product line in the works with Tara to the T. She is also the news reporter for the burlesque blog, The Candy Pitch.
I caught her recently for a few minutes in between her preparations for her new round of burlesque classes at the Girl's Room, meetings with Tara to the T about her FAB new line, her new posas reporter for the blog ...
VV - What drew you into burlesque?
GV - The fat paycheck of course! Ha-ha. I've always had an interest in performing and glamour, but two documentaries really turned me on to striptease: Liz Goldwyn's
Pretty Things
, and Dierdre Timmons' A Wink and a Smile. Also, I watched a lot of musicals growing up and was really inspired by Gypsy and Cabaret.
VV - What do you enjoy most about being a burlesque dancer/pinup model?
GV - At this point, I'm excited about different opportunities and meeting new people. I really want to apply and travel to a lot of the national events such as Burly Con (Seattle),
Toronto
Burlesque Festival, Burlesque Hall of Fame Weekend (Las Vegas) and so on. In addition to traveling, the creative outlet really satiates my need to bedazzle and decorate. I just love the whole creative process.
VV - There is so much you do in and around the community, it's astounding, like your burlesque class for example. Tell us more about it!
GV - I love teaching my classes! I am so grateful to Karyn at the Girls Room and my students for supporting my dream. I teach various levels of burlesque striptease. Graduates of my program learn the bump and grind and shimmy, boa work and how to remove gloves, bras and panties. I also give demos on
applying fake eyelashes
, hair and makeup. My students get a brief introduction to burlesque history and we talk about current performers. I always encourage my students to attend local shows. I tease them that it's for extra credit. Someday I'd love to produce a showcase for my advanced students. I also do act review for performers as well.
VV - What inspires you?
GV - Anything and everything. Music, shoes, colors, food, people, animals. So many things trigger ideas and excitement. It's hard to keep my mind quiet, and I usually carry a small notebook with me everywhere so I can jot down my crazy ideas.
VV - Tell us a little about some of the most memorable moments you've had this past year...
GV - One was last month in Chicago on stage for the curtain call at the Bells and Whistles show. I got a pasty-to-pasty hug from
Michelle L'amour
for a job well done. Also an alum of my Charm School came to me with tears in her eyes telling her that I'd helped her accept herself and feel beautiful. It might sound kind of cheesy here in this blog, but at the time, it was a really special moment that reminded me that teaching is a calling for me, not just performing. And of course, winning an award at Hot Rods and Heels was pretty special too.
VV - You do burlesque full time, what is a typical day like for you?
GV - I try to avoid typical days as much as possible, but I do have somewhat of a routine. I usually get to my computer around 10 a.m. and I answer emails. Then I'll do some marketing and promotional work for my classes and/or any upcoming shows. When the phone rings, it will be photographers, producers or my sponsor Tara. Sometimes the phone doesn't ring at all, and some days I feel like I'm on the phone all day. After I've updated my blog and other profile pages, I rehearse. I try to rehearse daily. I'm used to being really disciplined from ballet, and I try to apply the same mentality to burlesque. Some days, I'll run errands, or go to Tara's studio to work on product. In the evenings, I teach. Also, I have meetings and photo shoots to attend and sometimes interviews to fill out (like today). I'm learning to take time off when I have it. It's a sweet life.
Ginger is such the sweetheart - please make sure and catch her at an upcoming show! She will be featured at next months' La Divina Production ATOMIC FROLIC, in association with Bachelor Pad Magazine, over at the Lakewood on July 18th. In fact, I will be the panty wrangler! Kitten DeVille will be flying in to highlight the show, along with Rose Darling, Black Mariah, La Divina, Angela Ryan, and the music stylings of Ricki Derek!
Thanks, Ginger! You are simply amazing, and I wish you the best!!!
And while you are already reading a blog... go check out Ginger's -
thegarterbelt.blogspot.com
XOXO
Vivienne Vermuth