Ladies and gents - we are going to welcome the FABULOUS Scarlette Switches and Garrett Mobley of Mobley Steamline soon in the Interview section, as well as a brand spankin' new piece from famed town drunk Dr. Skotch! IN the meantime, keep an eye out for these FAB shows coming up near you -


Vinny and I will be performing at this show, come say hi!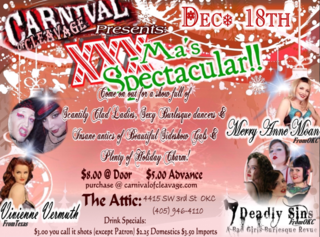 I will be travelling to OKC for this show!




The next session of Dr. Sketchy's will be CRAZAY!

Talk to you all very soon!
Cheers! Vivienne