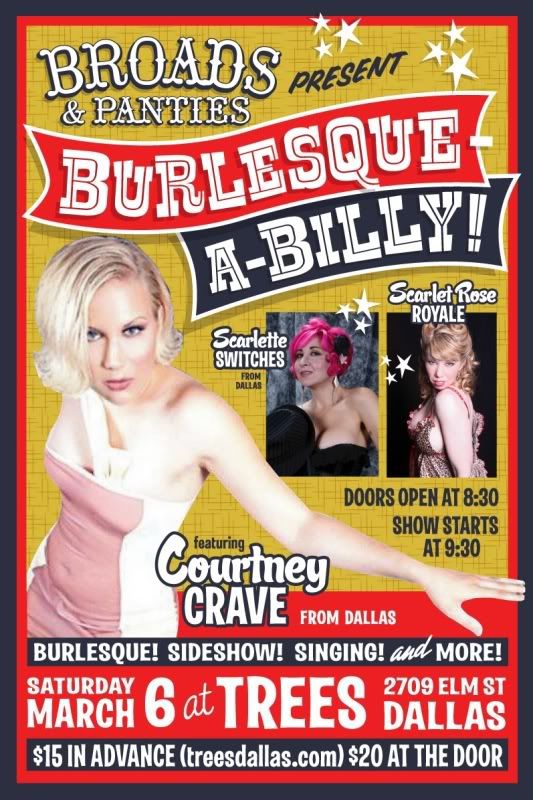 These Broads are at it again - BURLESQUE-A-BILLY! We are taking a turn to the rockabilly side - so slide into some creepers, bust out your best leather jacket and get some Lay-Rite into that 'pomp! Or... just come enjoy some Broads in thier Panties! Burlesque/boylesque, sideshow, singing and more! 15 in advance at treesdallas.com, 20 at the door, but don't wait! our first show sold out day before, so grab tickets early!
We are also hosting a raffle to raise money for the Greenville Avenue Fire and those affected, 102.1 the Edge has graciously donated a TON of items, including a EDGEFEST 19 guiatr, signed by all the bands, and more! Visit jessie at her blog -http://www.kdge.com/pages/diva.html
Featuring
Courtney Crave
Scarlette Switches
Scarlet Rose Royale
Other Players
Vinny Velour
Cora Coquette
Bubbles Von BonBon
Alystre McQueen
Syntactic
Sin O'Rita
Pixie O'Kneel
Fireplay by Zamra
Vocal Stylings by Vic Handsome
Hosted by Dr. Skotch
Our Honored Guest - Zandra Ellis of Bump N Bring
treesdallas.com for ticket info!